Finding the time to clean your house when you have a full-time job seems impossible. You might feel that things get overwhelming after a while and the stress builds up, thus,  feeling unmotivated to declutter and vacuum your house. This, however, should not turn into a long-term issue! With the tips we will be providing you below, we hope that home cleaning will be much more enjoyable and manageable. Read on to find out more!
#1: Schedule: The very first step is to identify some cleaning tasks and categorise them under "daily habits", "weekly chores", "monthly tasks" or even "yearly spring cleaning". By dividing your tasks, you separate the chores and will feel less overwhelmed by the cleaning routine. 
For example, making your bed and washing your dishes can be categorised under your daily to-dos, whereas deep cleaning of window blinds and appliances can be classified as a yearly spring cleaning to do before special occasions. 
Image: https://lifeasmama.com/wp-content/uploads/2016/10/cleaning-schedule-final-LAM.jpg
You can aim to make a checklist or a simple routine sheet where you can guide yourself throughout and not miss any tiny details! Alternatively, you can find some templates online and print them out for future references. In cases where you hire a cleaner, you may also pass them this piece of paper, and they will tick accordingly to the tasks they have performed. You can save time and explanation by doing so and things will be so much simpler!
#2 Organise: When you have set yourself into an everyday declutter momentum, you will find that cleaning becomes a lot easier. It is known that the less clutter you have, the less cleaning you have to do, as you will have fewer places for it to gather and sink into. Start investing in some transparent storage boxes and organise your things before actually sweeping and mopping your apartment! By doing so, you will pick out items and get rid of them during the sorting process which will ease your cleaning.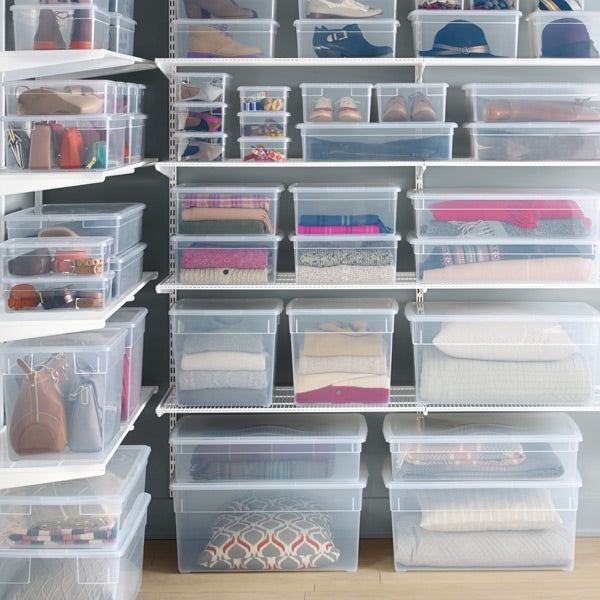 Image: https://images.containerstore.com/catalogimages/324392/SO_14_ElfaOurBoxes_R0212_CMYK_x.jpg
This decluttering process includes your cleaning supplies! It is advisable to keep your cleaning products near you and easily accessible. This is because you can just carry this bucket around when doing your cleaning. Lesser time is spent from travelling back and forth because you forgot something. 
Cleaning can also be done through categories and it is more organized that way. This is the "KonMarie" method from our dear tidying expert, Marie Kondo. To read more on our Marie Kondo method, you can read our other blog here.
#3 Encourage: Cleaning may seem like a mundane task, but you can make it fun by engaging the whole family to clean together! Not only is it a great way for your family to bond amidst everyone's hectic schedule, but it also teaches your kids to clean up after themselves, cultivating a good habit. With the whole family involved in cleaning, it also lessens your workload and you wouldn't feel as overwhelmed!
To encourage cleaning as a family, you should first find a timing that works best for everyone, for example after dinner. Set a duration for the cleaning process and assign duties so that everyone has a role to play. The duties are flexible of course, so feel free to switch around and let everyone do something different every day. During this time, you and your family can also share about their day and reflect on the week as well - daily sharing has proven to help families form closer ties! 
Image: https://www.verywellfamily.com/how-to-set-up-a-reward-system-for-children-2764631
If you have kids at home, you can encourage them to clean as well by having a reward system! Kids may not be that receptive to cleaning up as they see it as a chore, but you can turn it into a fun activity that incentivises them to be involved. For every chore that they do, you can reward them with one point. Once they accumulate a certain number of points, you can reward them for their efforts - be it a new toy, more screen time, or their favourite meal. Be sure to reward them with something they like, so that they will be more motivated to clean up. 
#4 Equipment: When cleaning, your equipment are like your best friends - it is important to have your own trusty set of cleaning equipment to ensure effective cleaning. Good cleaning equipment helps you to get through cleaning a lot faster and before you know it, you're already done with the chores! If you often find yourself having to go through the same area multiple times just to get it clean, your cleaning tool may not be the most effective… and that is a lot of time wasted! 
Image: https://www.henryford.com/blog/2019/02/cleaning-house-after-cold-flu
Where to find good cleaning tools? A simple Google search can land you multiple cleaning products that are recommended by housewives and cleaning professionals, so you can look through and add your favourites into your cart! 
Having looked through these tips but simply have no time for cleaning? Fret not! You can engage a professional cleaning service to help you with all the chores. At Homely, we aim to let homeowners experience an easier, safer, and cleaner environment without lifting a finger. Don't hesitate to drop us a message for more information about our home cleaning services! 
Homely hoped you found this blog helpful and might try out 1 or 2 hacks from here. Head down to our Instagram @homely.global for more bite-sized tips and tricks for your anything revolving around the concept Home.