Homely: How to keep an organised kitchen, and why should I organize it? Sometimes after cooking, we are too tired to do the dishes or even place our knives back to the usual spot. Here are some space-saving tips and kitchen organisation hacks to keep your kitchen neat and tidy!
It is such a norm in Singapore to buy duplicated items as we have the tendency to have a "just incase" mentally - "What if we lost it? There's always a spare!" Well, it is not wrong; however, we will then have a plethora of items to store in our kitchen cabinets, causing clutter all around. Having a well-organized kitchen can save you a lot of time as you know where your items are placed. Additionally, it will lead to quicker and more confident grocery shopping and easier meal prep. Another benefit of organising a kitchen is safety. As kids are constantly running in and out, it is essential to keep hazards and sharp objects far away from exposure. 
Hack #1: Transfer your dishwashing and hand soap into smaller pump bottles to avoid the visual noise of the label. Pump bottles are so convenient as the dispensing is so easy while keeping your solution slightly airtight compared to other bar soaps, etc. They also cost relatively cheap and look aesthetically pleasing. You can also label on the bottles which is which, and the refilling process is pretty self-explanatory!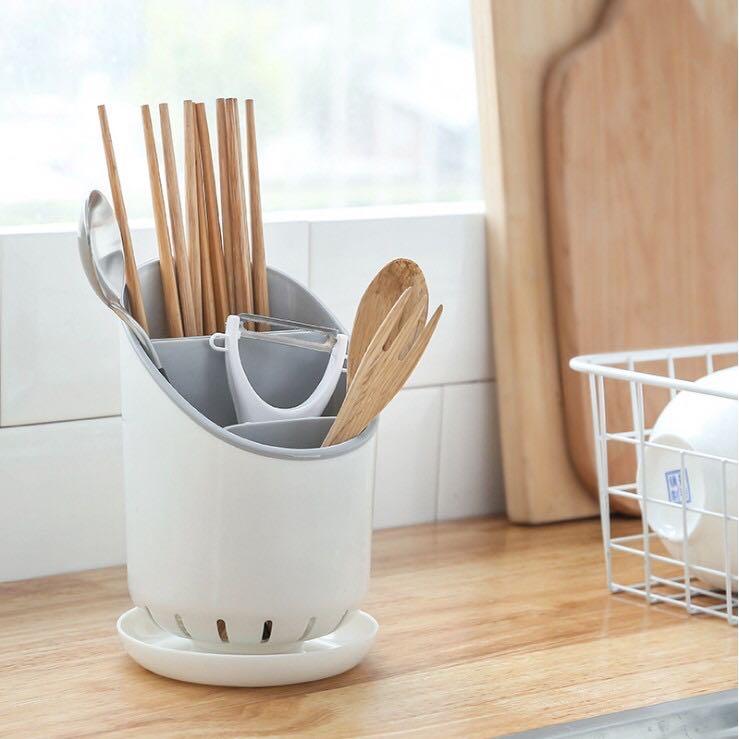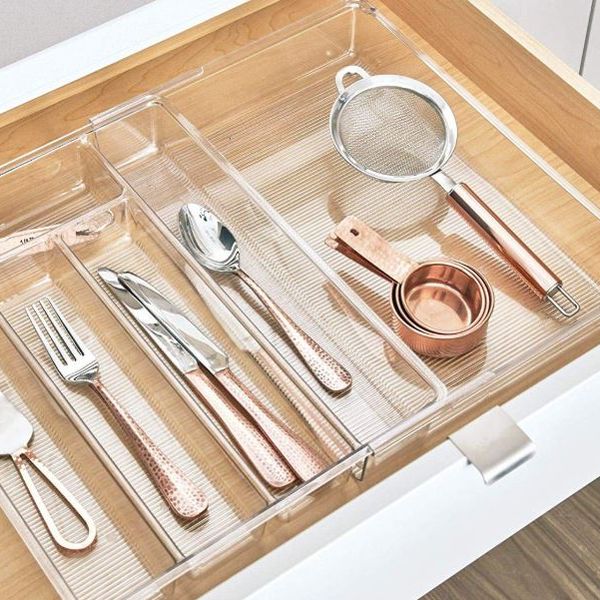 Hack #2: Store your cutlery upright in tubes in your dish cupboard or dividers within your drawer. It also always makes sense to have the handles facing out and nearest to you, where it will be easier to grab hold of it when taking it out.  These will save space and organise your cutleries for you, which makes cooking so much easier and enjoyable! However, take precautions and not let sharp items such as knives face upwards or in a children's reach. Products can be found in Ikea. 
For more kitchen organisation hacks, read here.
Hack #3: Keep only the dishes that spark joy, and you'll actually use. Sounds familiar? This famous sentence "Does this item spark joy to you?" came from a well-known Japanese tidying expert, Marie Kondo. You probably heard about her Netflix's hit show, "Tidying Up With Marie Kondo". If an item doesn't "spark joy" to you when you touch it, it is time to bid it farewell by donating it or throwing it away. By doing so, you will know which item is essential and valuable to you and which is not. To read more on our Marie Kondo Cleaning Tips, press here.
Hack #4: Get rid of old kitchen appliances. Old kitchen appliances that you do not use anymore do not bring about any benefits but only take up unnecessary space. You can consider donating it away (provided that it is still working) to other charitable organization. As the saying goes, "one man's trash is another man's treasure", just because it does not benefit us doesn't mean that it will not benefit someone else!
Homely hoped you found this blog helpful and might try out 1 or 2 hacks from here. Head down to our Instagram @homely.global for more bite-sized tips and tricks for your anything revolving around the concept Home.